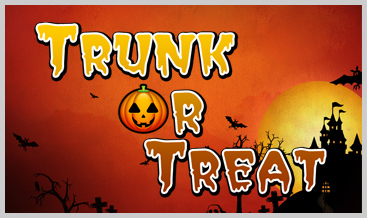 Event Date
10/20/2012
Event Time
11:00am - 6:00pm
Bill Jacobs Auto Group Trunk or Treat
On Saturday, October 20th, from 11 a.m. until 6 p.m. the Bill Jacobs Auto Group is hosting our annual "Trunk or Treat" event on the lot of the Chevrolet and Cadillac dealership in Joliet, IL. Friends, families, kids and adults are all invited to come in and participate in the fun that is sure to be had by all during the event. We are going to have many different vehicles parked at the front where the trunks will be full of candy for kids to go trick-or-treating to. We will be providing Halloween bags for children to collect all of their candy in and there will be other activities as well. Don't miss out on one of the most fun Halloween events of the year at Bill Jacobs.

On top of Trunk or Treating, children and families can take advantage of all of the pumpkins that we will have available for them to decorate. There will be paint pens, designs and more so that the pumpkins can be decorated and taken home. We will also have sales staff standing on hand all day long so that if you have a question about a particular vehicle, they will be happy to answer it. We offer a great selection of many brands of vehicles and our Chevrolet and Cadillac selection is outstanding.

Do not miss out on this fun event for the entire family. The Bill Jacobs Auto Group Trunk or Treat is a great time and we want to see you there enjoying yourself. Don't forget to come by the dealership on October 20th from 11 a.m. until 6 p.m. for all kinds of great times.
---