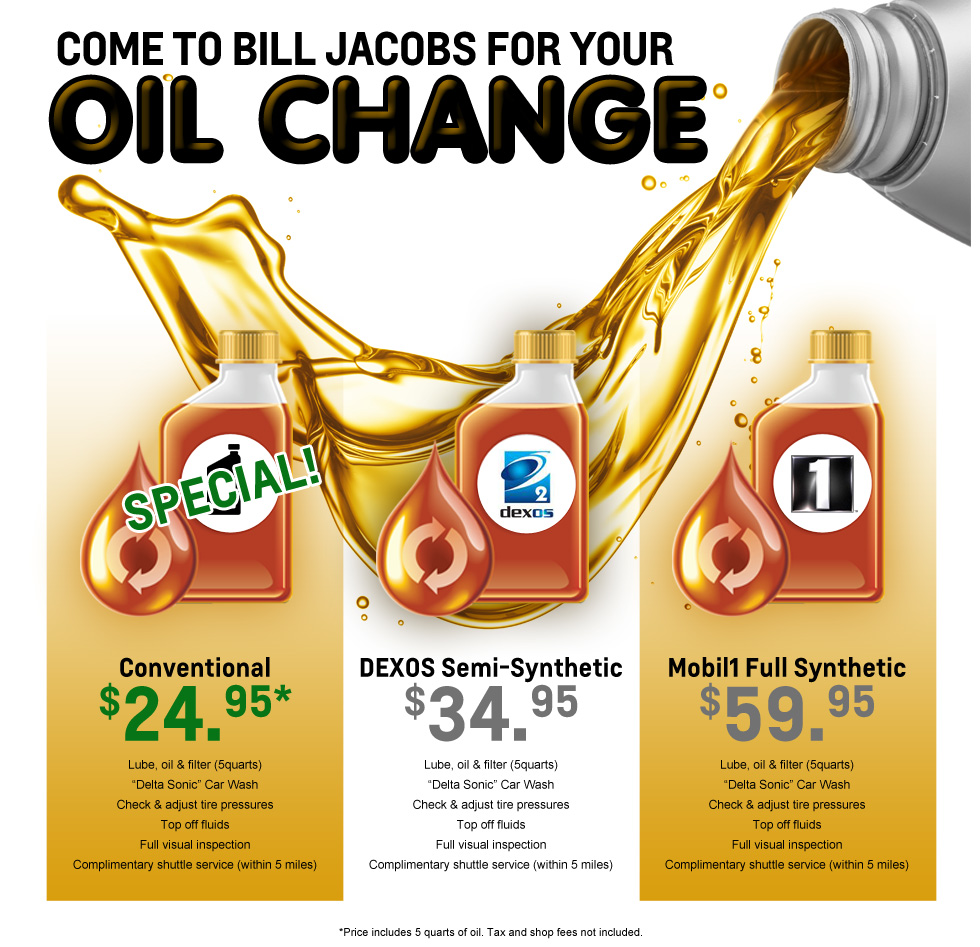 Oil Change Joliet, IL
Your engine relies so heavily on your motor oil. Providing the proper lubrication for its moving parts, transferring heat away from critical components, and keeping internal mechanisms clean only begin the list of its essential functions. To keep your engine in pristine condition, it is critical you get the most efficient and thorough oil change in Joliet, IL from Bill Jacobs Joliet. Our team of skilled, certified technicians is trained to give your vehicle a complete inspection and ensure your engine is performing to its capacity so you can get every last drop of performance from your car.
With three service levels for an oil change in Joliet, IL, you can find the package that best fits your budget and your vehicle's needs. No matter which service you select, you get five quarts of oil, a Delta Sonic car wash, a tire pressure check and adjustment, and fluid refill. In addition to the oil change in Joliet, IL, you get a full visual inspection which can bring some lingering issues or potential problems to light so you can avoid more expensive repairs in the future.
Get an Oil and Filter Change in Joliet at Bill Jacobs Auto
You spent hard-earned money on your vehicle, so it only makes sense to care for it and extend its life as much as possible. With an oil change in Joliet, IL, you can be sure your car is being treated by experienced technicians who are looking out for your vehicle by identifying, diagnosing, and recommending proper service to maintain the quality ride you are used to. Minor issues like fluid leaks, frayed belts, bulging hoses, and transmission problems can be caught early by allowing a Bill Jacobs Joliet mechanic to take a look at your car.
As one of the most important recurring services your car requires, it's important not to underestimate the power of an oil change in Joliet, IL and full-vehicle inspection. While it's easy to procrastinate and assume your car is running fine without it, it only takes one small issue to become a big problem before your car is in the shop for days and you're paying big bucks for major repair. Bring your vehicle to Bill Jacobs Joliet for the most affordable, thorough, and fastest oil change in Joliet, IL.