2014 Chevy Silverado Chicago IL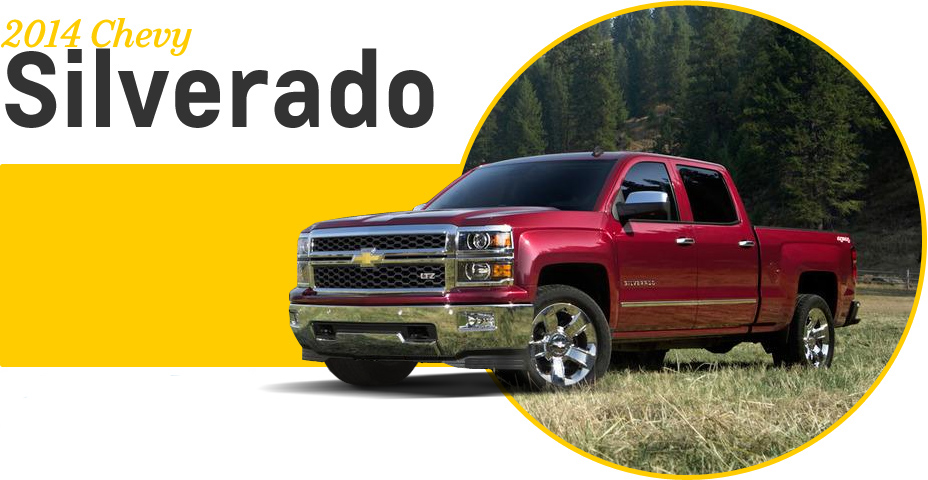 2014 Chevy Silverado in Chicago, IL Coming Soon

Built on tradition and toughness, the all-new 2014 Chevy Silverado in Chicago, IL will bring more power, better efficiency and a new attitude to the full-size truck market. The newest generation of one of the all-time greatest trucks is the most refined and best-engineered Silverado ever. Chevy has a reputation for toughness and this Silverado is the epitome of tough. Here at Bill Jacobs Chevy, we are excited to get the new 2014 Chevy Silverado in Chicago at our store and offer it to our customers.

The exterior of the 2014 Chevy Silverado 1500 is modern but refined and shows a musculature that conveys the ultimate work machine. Not only is this truck attractive, but it is more functional and aerodynamic than any other Silverado built and has sculpted sides and fender flares that are very impressive. The new front end of the truck improves sealing for more efficient cooling and the body was sculpted to allow better airflow over the truck to reduce drag. The 2014 Chevy Silverado in Chicago, IL is going to appeal to all demographics, whether you need a tough truck for work or if you want a truck for the looks.
Get the 2014 Chevy Silverado in Chicago at Bill Jacobs Chevrolet

Under the hood of the 2014 Chevy Silverado 1500 in Chicago is a selection of three all-new EcoTec engines, a V6 and two V8 engines. The three new engines all offer direct fuel injection, cylinder deactivation to allow for better fuel economy and continuously variable valve timing. Power and fuel economy are important factors to weigh in when buying a truck and the 2014 Chevy Silverado in Chicago has some of the best options available. Chevy has tested their engines over millions of miles and knows that when you need a long-lasting, durable pickup truck, the Silverado is the truck to choose.

With a new exterior and generation of pickup, Chevy would have been remiscient if they didn't redesign the entire interior as well. The 2014 Chevy Silverado features an upright instrument panel that has been tailored to the needs of truck customers. A 4.2-inch color Driver Information Center is in the middle and the console has plenty of easy to use and reach knobs. The MyLink infotainment system is also available in the new Chevy Silverado and can store up to 60 favorite radio stations, contacts, destinations music and other media. New, more durable and easier to clean cloth has been put in all the seats so you won't have to worry about tearing or getting your vehicle dirty. Leather is available as well as many other options depending on the trim level you choose.

Don't miss out on the most legendary truck ever built. Submit your information to learn when we will have the 2014 Chevy Silverado in Chicago, IL at our dealership, and we'll get back to you right away.