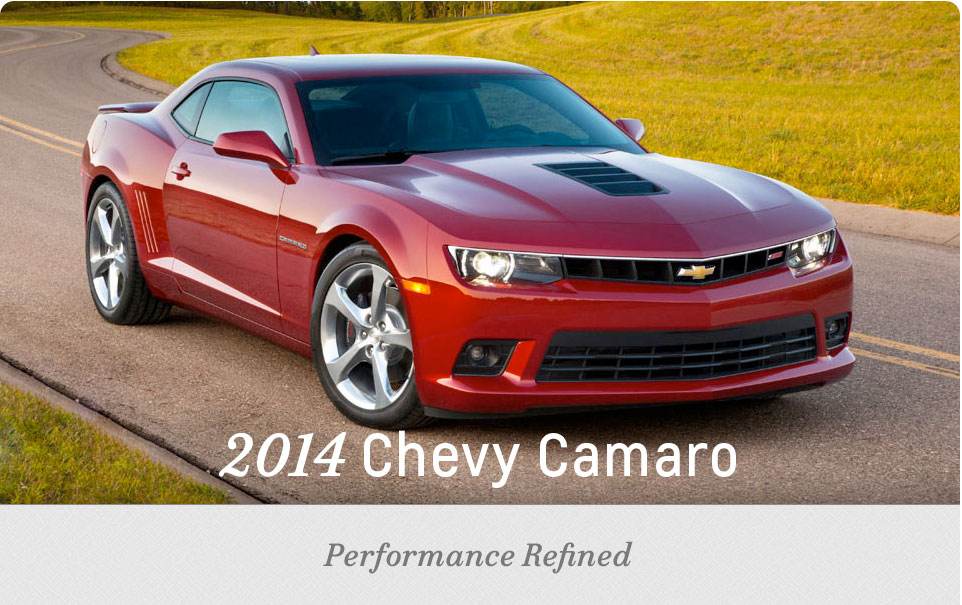 2014 Chevy Camaro Joliet, IL
Few cars embody true American speed and style like the 2014 Chevy Camaro in Joliet, IL. With raw power behind a vigorous V8 engine and a bold, muscular exterior that portrays unadulterated strength, the Chevy Camaro is the truest definition of an American pony car. With minor exterior changes throughout the model lineup and the reintroduction of the track-ready 500-horsepower Z/28 trim, the 2014 Chevy Camaro in Joliet, IL delivers personality backed by performance. When you want to stand out in sea of sedans and crossovers, Chevy's muscle car is available to put the excitement back in your driving experience.

What's New in the 2014 Chevy Camaro?
Although the 2013 model embodied the performance of the Camaro, Chevy added a few exterior touches to improve exterior styling and increase performance for the 2014 model year. Most notably, the front fascia received several visual tweaks, which included an elongated lower mouth, a more compact upper grille, and a new headlight design. The back end of the 2014 Chevy Camaro in Joliet, IL also received a new spoiler and new exhaust tips. Perhaps the biggest change, though, is the reintroduction of the Z/28 model into the Camaro lineup. The race-inspired trim features enhanced performance components, and an awe-inspiring 500-horsepower 7.0-liter V8 engine that had previously been used in the Chevy Corvette Z06.


2014 Chevy Camaro Chicago, IL
The 2014 Chevy Camaro near Chicago, IL comes standard with a 3.6-liter V6 engine that generates 323-horsepower and 278 lb.-ft. of torque. However, with an upgrade to the popular Chevy Camaro SS, Chevy's pony car packs a 426-horsepower 6.2-liter V8 capable of producing 420 lb.-ft. of torque. Finally, by choosing the Chevy Camaro ZL1 model, you'll find a supercharged 6.2-liter V8 capable of yielding 580 horsepower and 556 lb.-ft. of torque. That top ZL1 trim also provides cutting-edge performance components like adaptive magnetic suspension dampers, 20-inch wheels, Brembo brakes, and a carbon-fiber air extractor on the hood. No matter which trim you choose, the 2014 Chevy Camaro near Chicago, IL reminds drivers that true pony car strength wears the Chevy bowtie.