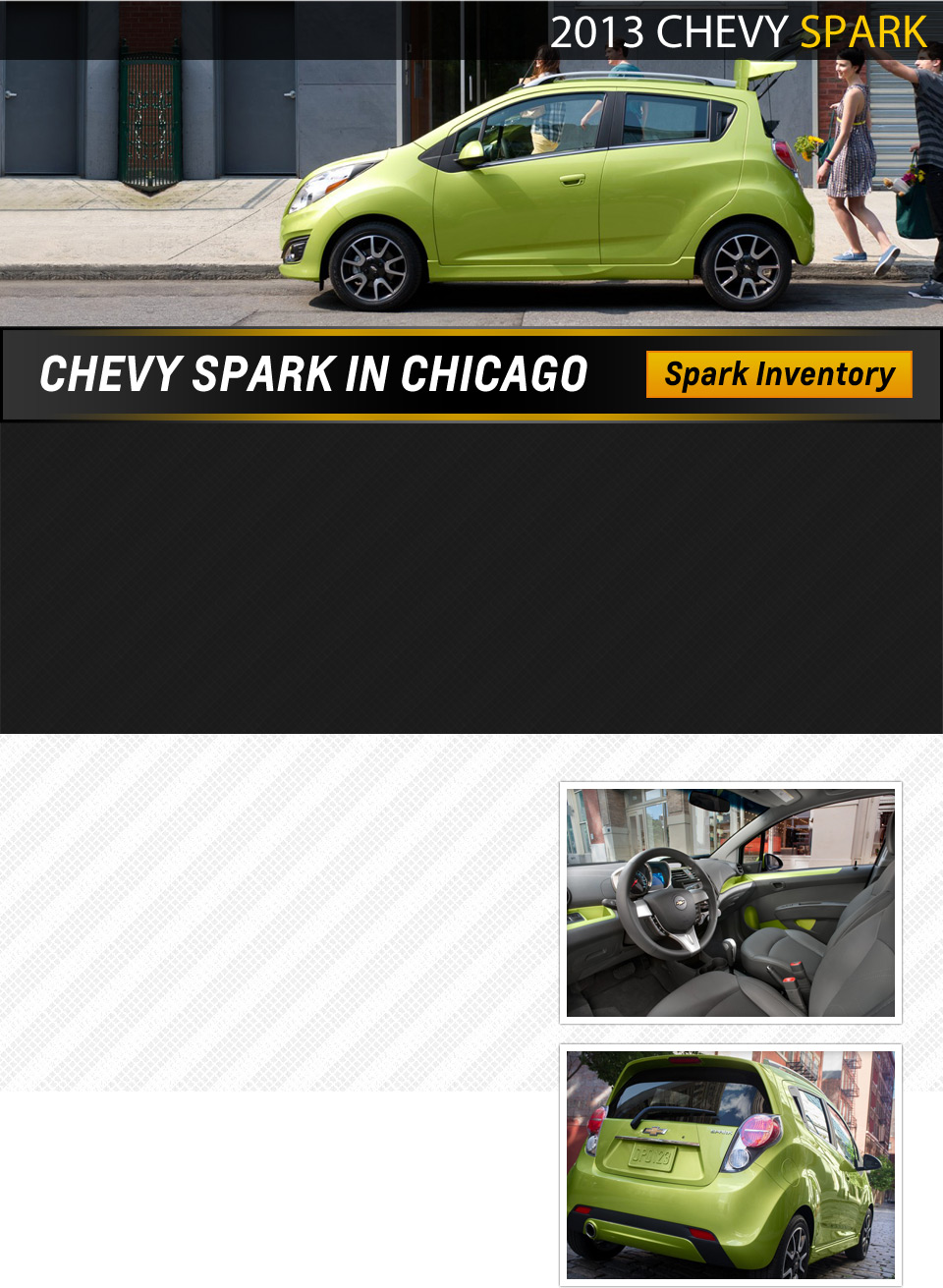 2013 Chevy Spark near Chicago, IL

Small, urban-esque cars are the future of city driving and the 2013 Chevy Spark near Chicago is as perfect as it gets for an ideal mini car. Affordable, full of technology, fuel-efficient and stylish are all ways you could describe the 2013 Chevy Spark, but the way that it drives is just one word incredible. While the Spark is small, its no slouch and can perform just as well as many other cars on the road. With many unique and loud colors to choose from, you can even personalize the Spark to your way of life. Techno Pink, Jalapeno Green and a bright red that is certain to catch your eye are just a few of the colors available. Starting much lower than its competition in price makes the Chevy Spark an ideal choice for a small car and lucky for you, we have the 2013 Chevy Spark in Joliet, IL at our dealership.
2013 Chevy Spark in Joliet, IL
The four-door hatchback is available in three different trim levels and includes 15-inch alloy wheels, air conditioning, OnStar and a great speaker system even in the base model. Upper trim levels can get you any feature that any other car on the market has such as Bluetooth, steering wheel audio controls, satellite radio, remote entry, faux leather interior, roof rails and more. The 1.2-liter four-cylinder engine puts out plenty of power to get you out and about and you won't have to fuel up much since you'll be getting 38 miles per gallon on the highway. The 2013 Chevy Spark near Chicago, IL also offers an available MyLink touchscreen that will give the Spark an infotainment system that other vehicles in this segment do not have.

Many younger buyers are turning to the Chevy Spark in Joliet, IL for the affordable price, fantastic features and unique look that the car offers. The Spark can come in an automatic or a manual transmission and the drivability is awesome. You can find the 2013 Chevy Spark in Joliet, IL at Bill Jacobs Chevrolet and we'll be happy to hook you up with a car that is right for you and your lifestyle. Don't miss out on the urban cruiser that can be parked easily, is safe and convenient on your budget. Get the 2013 Spark near Chicago, IL today.