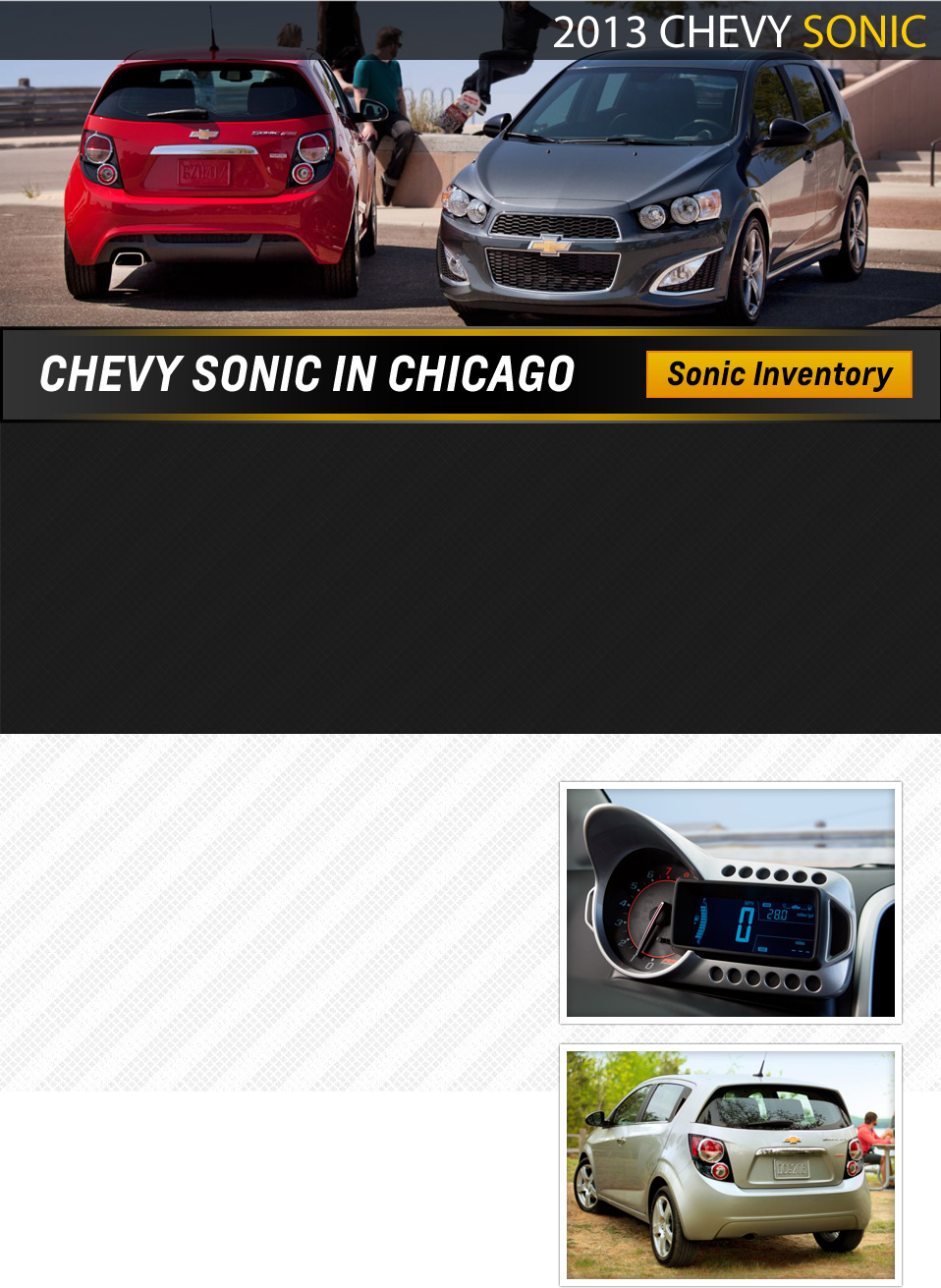 2013 Chevy Sonic Chicago, IL

If you're looking for a car that is both hip, stylish and fun, then you need to check out the 2013 Chevy Sonic near Chicago, IL. The Sonic is better than ever for 2013 and comes in a variety of trim levels while offering plenty of features. With the option of Chevy's MyLink infotainment system, and plenty of other technology innovations, you can't go wrong with this car. Not only is the 2013 Chevy Sonic near Chicago, IL a sub-compact that is capable of having magnificent fuel economy, but it also is extremely powerful. This is one of the best sub-compact cars on the market, and it was the first one built right here in the U.S. Come check out the 2013 Chevy Sonic in sedan or hatchback form in Joliet, IL at our dealership.
2013 Chevy Sonic Joliet, IL
With four sedan and hatchback body styles, you're going to have plenty of choices in the 2013 Chevy Sonic. This car gives its drivers a solid build quality, fantastic performance and good MPGs. Most people would be looking for the "But" here, but with the 2013 Chevy Sonic in Joliet, there is none. The standard features in the lowest trim level are numerous and advanced, while the higher trims offer performance engines, 17-inch wheels and leather. Most Chevy Sonic cars come with the 1.8-liter four-cylinder engine that puts out up to 138 horsepower and comes with a five-speed manual with an automatic optional. The Sonic RS and optional on the LT and LTZ can give you a turbocharged 1.4-liter four-cylinder. This puts out up to 138 horses and has 148 pounds of torque. The turbocharged engine makes this car so much fun to drive and it handles excellent.

Not only is the Sonic sharp and fun, but it's safe. It scored very well in the Insurance Institute for Highway Safety's Government Crash Tests and earned five stars in nearly every category. The car has plenty of standard safety features and the cabin is extremely comfortable. There is nothing that you won't like about the 2013 Chevy Sonic in Joliet, IL and you can find this incredible car at Bill Jacobs Chevrolet.